EAA Chapter 563
International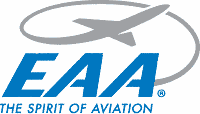 At EAA Chapters across the world, aircraft builders, pilots, and enthusiasts gather to exchange ideas and information and to serve the local aviation community. Anyone with an interest in aviation can join the EAA. Be our guest at our next meeting.
Founded in 1953 in Milwaukee, the Experimental Aircraft Association has always promoted the building of sport aircraft by individuals. While still emphasizing home built aircraft, the EAA today supports all forms of recreational aviation, including antique and classic aircraft, aerobatic aircraft, warplanes, ultralights, and helicopters. EAA's more than 250,000 members make up local chapters all over the world. Information is shared through publications, chapter newsletters, web sites, air shows, and other programs.
Chapter 563
EAA Chapter 563 was chartered June 7, 1976 with 43 members. Today there are about 65 members, with several types of aircraft under construction.
Our hangar is at the south end of the field on Peoria Mt. Hawley airport (3MY). The hangar is 55 by 60 feet, insulated and heated, and includes the chapter breakfast and meeting area plus a washroom. Members may reserve space to house their projects, either under construction or while awaiting permanent hangar space on the field.
The chapter offers several youth programs, including some of those organized by EAA headquarters. Together these form the core of our activities as an Educational public charity.
For 2023
The officers are J.J. Hoevelmann (president), Bob Pegg (vice president), Rob Meyer (treasurer), and Karl Kleimenhagen (secretary).
The Flight Advisors are Marty Martin, Tom O'Toole, and Ron Wright.
The Technical Counselors are Bill Larson, Greg LePine, Marty Martin, and Terry Moushon. In particular, for advice on aluminum airplane construction, contact Morrie Caudill, Bill Larson, or Terry Moushon, who have completed an aluminum airplane. For help with fabric covering contact Ron Wright, who has covered several airplanes. Contact Steve Kensinger of Sunshine Fabrications in Pekin if you need metal parts fabricated.
The IMC Club coordinator is Dana McNeil, and the VMC Club coordinator is Karl Kleimenhagen.
You are welcome to contact any of these members with your questions.
Resources
In addition to our Technical Counselors and Flight Advisors listed above, we have available for reference a library of books on airplane construction as well as several sets of airplane plans. The books include the complete Bingelis set. Plans from VanGrunsven, Monnett, Bede, Davis, and others are available for inspection. In addition, many other designs have been built at the chapter, and you can ask the owners to let you inspect their plans. If you're not satisfied with the way the designer of your airplane did things, see what other designers have done.
A collection of several hundred books on aviation history, donated by Bill Hounshell, is also available.
We have a limited number of donated shop tools: English Wheel, band saw, table saw, drill press, TIG welder, nibbler, rivet squeezers, hammer and dolly set, etc. The hangar has a large capacity air system to power your pneumatic hand tools.
Airport
At Mt. Hawley airport, aircraft maintenance and fuel are available. Both fuel pumps (100LL and Jet) are self service, with payment by credit card. There is a pilot lounge with coffee plus a pair of vending machines. Several restaurants are within walking distance, up the road to the east of the field. Just off the parking lot and overlooking the runway are three shaded picnic tables for use by the public.
Web Site
While HQ offers free site hosting for chapters, it is rather cumbersome. If other chapters are curious, this site is hosted at Hostinger, although the author has also used WebHostingPad with equal success (and at the same low cost). Google Domains is used for the domain name server, but either hosting service mentioned can also do this. Pages are coded in HTML and CSS by hand, for which W3schools is a fine reference. Through CSS, an effort has been made to make pages render well on phones, desktops, and printers. Images are reduced with Compress or Die, although Web Resizer has been used, too. WinSCP is used to synchronize the internet site with the editor's copy on a PC. Once set up, this is much easier to maintain than HQ's Sitecore.
---