EAA Chapter 563
Meetings
Please note: Meeting times can change; please check the home page. Special events will also be listed there.
Location
Unless published on the Home page, all meetings are held in the Chapter's hangar at the south end of the field, Peoria Mt. Hawley Airport, 1320 W. Bird Blvd.
Coffee & Socializing
Every Thursday at 8:00 AM.
Breakfasts
Pancakes, eggs, and sausage are available on the 1st and 3rd Saturdays of each month, from 8:00 until 9:00. A modest donation per person is encouraged.
Chapter Meetings
Chapter Meetings are held on the 1st Saturday of each month, following the breakfast, approximately 9:30. Guests are welcome. However, the December meeting is usually a dinner at one of the area restaurants.
Board Meetings
Board Meetings are held after the breakfast on the 3rd Saturday. Chapter members are welcome.
Flight Clubs
The Chapter holds monthly meetings of EAA's VMC and IMC Clubs where pilots discuss flight safety under either "Visual" or "Instrument" weather conditions and rules. Both are open to the public.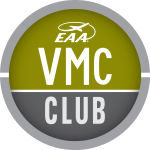 The VMC Club meets the first Sunday at 6:30 pm. While usually held in the chapter hangar, in the coldest months these are sometimes held in the FBO lobby, in the building next to the public parking lot. Please see the calendar listings on the home page.
The IMC Club meets the second Sunday at 6:00 pm and always meets in the chapter hangar.
---