---
EAA Chapter 563
The Beacon
March, 2023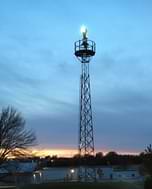 ---
Chapter
Breakfasts
The kitchen crew has been working with no additional help for months and very much would like assistance with set-up and clean-up.
Youth Programs
High School Flight Clubs
Before the last board meeting, the Flight Club from Dunlap High School gave a presentation to the chapter on their activities. The club's president, Evan Madura, spoke, as did the teens leading their rocket, drone, and r/c airplane groups. A few of the teens expressed interest in both Young Eagles flights and the Ray flight scholarship program.
Ray Scholarship
Our chapter has again been selected to administer a Ray flight scholarship for 2023. Rob Meyer, the chapter's coordinator in this program, will work with a small committee to select our candidate. Several candidates have already been identified. The committee prefers to select teens who've already started flight training.
Mechanics Scholarships
For many years, the chapter has provided a scholarship to the mechanics program at Lincoln Land Community College. The most recent recipient is Melissa Garcia, and she sent the chapter a note of thanks:
I am sincerely honored to have been selected as a recipient of the Experimental Aircraft Association Peoria Chapter 563 Scholarship. I am very thankful for your generosity. My parents have worked very hard to provide me with the opportunity to further my education and I am grateful that I can give back to them.

I am currently a student in Lincoln Land's Aviation Mechanic program. So far in my journey, I have thoroughly enjoyed the program and all the things I've learned along the way. I've always been interested in how things work and learning about airplanes, the past, the present, and the future, is truly fascinating. I plan to graduate in 2023 and cannot wait to see where the future will take me and all the new things I will learn.

Once again, I thank you for your kind contribution. This scholarship will push me to continue working hard and to achieve the fullest of my potential.
In the last few years, we've also provided a similar scholarship at Lewis University, where this year's recipient is Zaid Tadros:
It is an honor to be chosen for the Experimental Aircraft Association Peoria chapter 563 Annual scholarship, at Lewis University for the 2022-2023 academic school year. I am currently a junior majoring in Aviation Maintenance Technology. I am enjoying my studies, especially my aircraft reciprocating engines course. I am a member of The National Society of Leadership and Success, and the weightlifting club at Lewis University. I have gained a tremendous amount of knowledge and experience during my time at Lewis University. I am capable of performing structural repair on aircraft, and overhauling reciprocating engines.

My favorite memory at Lewis university is showing up every day ready to learn and getting results that reflect in a great way on my GPA. After graduation I plan on working with commercial aircraft at a major airline, becoming financially stable, investing in myself, and always continuing learning. I am truly grateful for the scholarship support. This scholarship allows me to focus on my studies and additional educational opportunities. Thank you for your support.
Airplane Building
During February, the firewall and seat assemblies were completed, and in a dash this past weekend, the fuselage tail cone was riveted shut. The teens will begin to fit the cabin parts to the fuselage in the weeks ahead, and the fuselage has been moved to the assembly table for this work.
CNC parts have their place but at times have proven a headache in this project. The rear carry through spar is an assembly of three thick, folded aluminum parts riveted together. In our kit, the holes on the top of this spar did not align with those in the top skin of the aft fuselage. Zenith promptly supplied custom parts to make a spar with no holes on the top, but match drilling through finished sized holes in thin skin risks damaging the holes. Chapter member Dean Lake is also a machinist, and he designed and made a tool to center the pilot drill bit in the skin's holes. This worked perfectly and allowed the teens to finally rivet the fuselage together.
Zenith has informed us the wing kit will be ready in April, and we could use a volunteer with a covered trailer to pick this up. The project will cover fuel and food for the trip.
If the fuselage is not already on its gear by the time wing assembly can begin, the fuselage will be moved from the big work table and placed on sawhorses. The fuselage work will be continued in the northwest corner of the hangar.
As part of the cabin work, the control linkages will be assembled. The elevator control has proven nettlesome in this design, and chapter members Andy Plouse and Ric Woldow have pointed to a successful redesign done by a builder in the St. Louis area. Mike Simmons is working on the details and will guide the teens in this change.
VMC and IMC Clubs
The VMC Club meets this Sunday at 6:30 in the hangar. The following Sunday the IMC Club meets at 6:00.
HQ
Headquarters asked if we would host their Tri-motor this spring but had to withdraw the offer due to maintenance issues.
In recent years, this chapter has scored high in HQ's rating of chapter health, which is based on an 11 point scale. We likely qualified for their top rating again this year but didn't submit our data in time: Oops, next year.
Kit For Sale
The chapter e-mail received a note from a Jim Hinrichsen in nearby Congerville that he has a complete Zenith 601-HDS kit for sale. If interested, drop a note to the chapter e-mail. This was a mid 1990s design, and kits haven't been sold for several years, although the factory still supports the design.
Members
Joe Troglio has recently retired from the fire department and is taking over the FBO at Lacon from Barry Logan. Joe is also our liaison to the LifeLine Pilots and the fund raising event they will be holding again this fall at 3MY. The LifeLine organization plans to give a presentation at the April chapter meeting.
Airport
3MY
Early February brought an unusual visitor to the fuel pumps, a Socata MS894A now owned by an individual in Pekin. It's a 4 seater powered by a Franklin 6 cylinder and was previously based in Washington state. Beginning in the early 1960s, about 3,000 of these were produced over two decades, but only 200 or so were in this configuration.
PIA
There is word the Airport Authority is interested in having the CAF's B-29 Fifi stop at PIA.
---
eaa563.org
Mt. Hawley Airport, Peoria, IL